Pantry Program
Recent national attention on inflation and the possibility of an economic recession have elevated public concern about food insecurity post-COVID. Not having enough to eat is a fact of daily life for one in 10 households in the Chicago metro area, according to the U.S. Census Bureau's Household Pulse Survey. Through close communications with our partners, we have seen this firsthand and endeavor to use a collaborative approach to ameliorate it alongside our neighbors in need. In Chicago, familiar patterns of food insecurity reflect the deep-rooted historical problems of inequality and structural racism faced by predominantly Black and Brown communities. Areas of highest food insecurity remain relatively unchanged since the pandemic began.
We believe and practice food sovereignty; the notion that all people have the right to healthy, culturally appropriate food that is produced locally, consumed sustainably and equitably. Food sovereignty goes well beyond ensuring that people have enough food to meet their physical needs. It asserts that people must reclaim their power in the food system by rebuilding the relationships between people, their communities and the land, and between food providers and those who eat.
Fresh produce is the top request at food pantries.
We are on a mission to secure the sustainable future of our food while supporting community members in need of healthier options.
Our food program lifts up Midwest farmers, promotes the environmental stewardship of land and provides hyper local, delicious produce at its freshest for pantries to nourish their community members.
We directly supply fresh produce, personal care items, and shelf stable goods to deliver to partner pantry and community organizations on a consistent basis for their distributions.
Partner organizations have included: Ring of Hope, the Bloc, Pilsen Food Pantry, Care for Real, Onward Neighborhood House, Taskforce Prevention and Community Services, Amor de Dios, Families Feeding Families, Fraternite Notre Dame, 360 Nation, Star Farm Chicago, Global Gardens Refugee Training Farm, Local Foods, DollarDays, and Gordon Food Services.
A special shout out to the volunteers who dedicate their time to pantries and service organizations.
In 2022, partnerships accomplished:
36,000+ People Regularly Served
17,000+ Cases of Food to partners equaling over 350,000+ pounds of food!
Distributed 250+ diverse produce items
Connected with 46 Regional Farms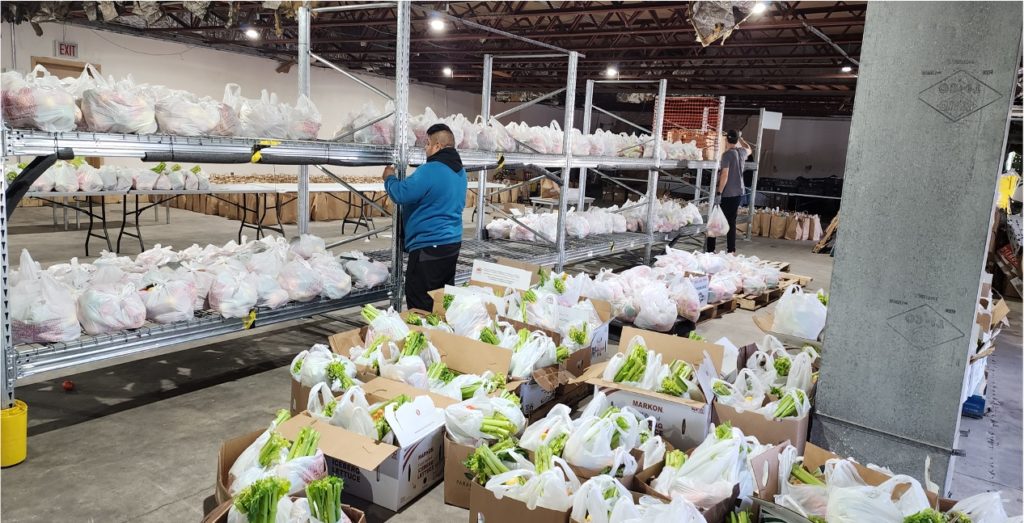 News about our Pantry Program: