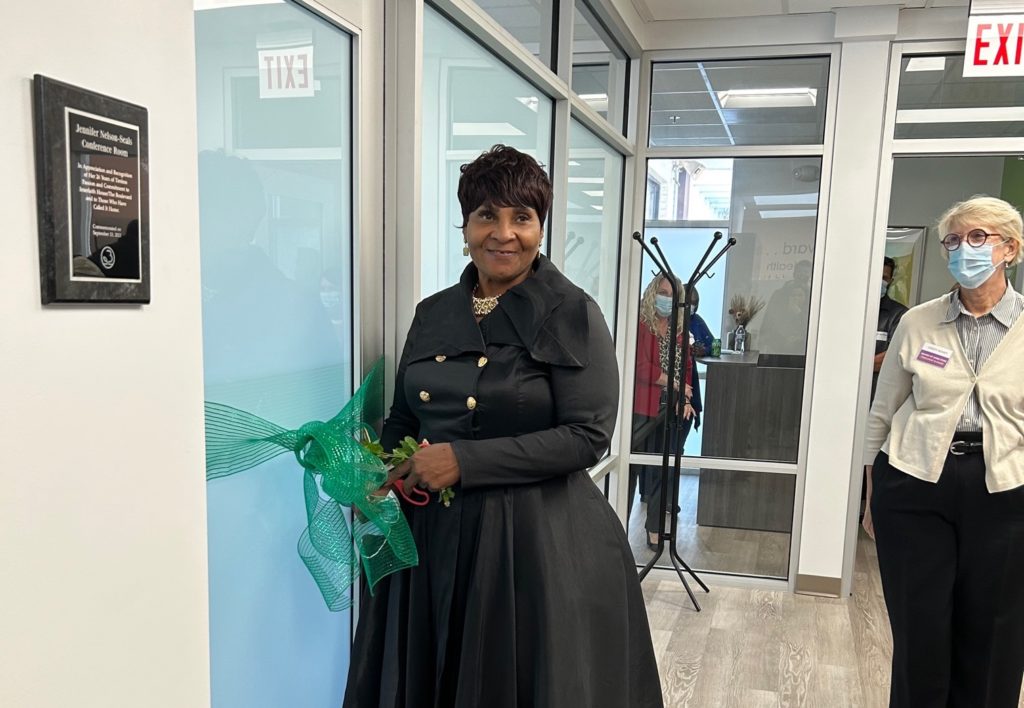 On September 13, our grantee partner The Boulevard of Chicago hosted an open house & dedication reception event to celebrate the rebuild of their facility's east wing and dedicate the conference room in honor of Jennifer Nelson-Seals, former Interfaith House & Boulevard CEO. Current CEO, Richard Ducatenzeiler, and Board President, Christy Weimer, proudly welcomed attendees into the beautiful new space. Although Mayor Johnson was unable to attend in person, he recorded a video for guests to provide his well wishes and enthusiastic support for Jennifer's legacy of leadership and The Boulevard's innovative health programming.
"I want to join the chorus of voices today who are thanking and congratulating Jennifer Nelson Seals," Mayor Johnson said. "Thank you for 25 years of incredible leadership as the CEO of The Boulevard. The amount of good that you have done in that time is, no doubt, immeasurable. The Boulevard is an amazing organization and a critical lifeline to so many of our families and brothers and sisters in Chicago. Thank you to this entire team, who is creating positive ripple effects all across our city. … I am wishing you many more impactful and successful years as an organization."
In July 2021, a fire completely destroyed the east side of The Boulevard's residential facility where their program offices were located. The building had suffered extensive structural damage and needed to be completely gutted. Thankfully, no one was injured.
The Boulevard is an ADA-accessible residential facility that accepts unhoused adults who need time and a safe, clean place to complete their recovery from an acute medical condition.
"We've serviced so many souls who came through this door," Jennifer said to an audience outside the new facilities. "Our success was different with each and every one that came through. Success looked like, they'd eat a meal. Success looked like, they were able to talk to their case manager. Success may have looked like, they went to their doctor's appointment and started trusting their doctor. … And every person that walked through the door, I tell you, the staff, the board of directors, all played a key role in making sure that their living was not in vain."