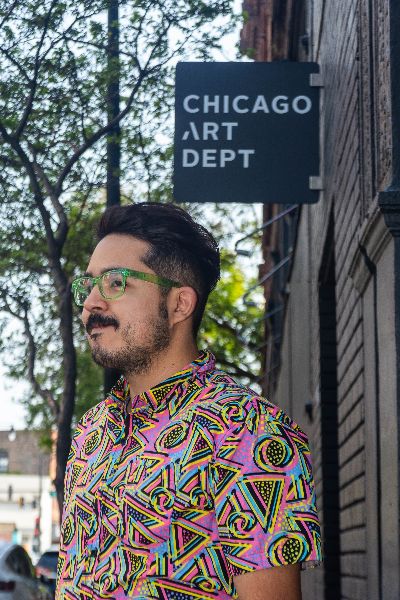 Congratulations to Carlos Flores, Programs Manager at our partner organization Chicago Art Department, who was named a 2023 Leader for a New Chicago.
Each of the 10 Leaders picked this year will receive a $25,000 unrestricted award. In addition, their affiliated organization will receive a $25,000 general operating grant.
"Carlos Flores is an installation artist, radical community arts organizer, curator, and flower farmer based in the Archer Heights neighborhood of Chicago. Both his visual practice and organizing work center around creating space for connection, generation, and care to take place. At Chicago Art Department (CAD), he leads the organization's residencies and exhibitions, supporting twenty civically-minded artists and over 100 free exhibitions and programs annually. CAD residents are activists, educators, and community leaders of their own."
Carlos leverages collaboration to engage broad audiences in critical dialogue to reimagine places of power and systematic erasure, cultivating cross-cultural healing between BIPOC communities."
For over five years, the Reva and David Logan Foundation have contributed to artist residencies, civic programs, and capacity-building. By all means, the attention and care CAD provides for their artists is unparalleled. They excel in engaging not only the artistic community but the local Pilsen community as well. We have no doubt that CAD will continue to inspire positive and radical change across the city of Chicago. This summer, check out some of their inspiring exhibitions and workshops. Details are on their website.