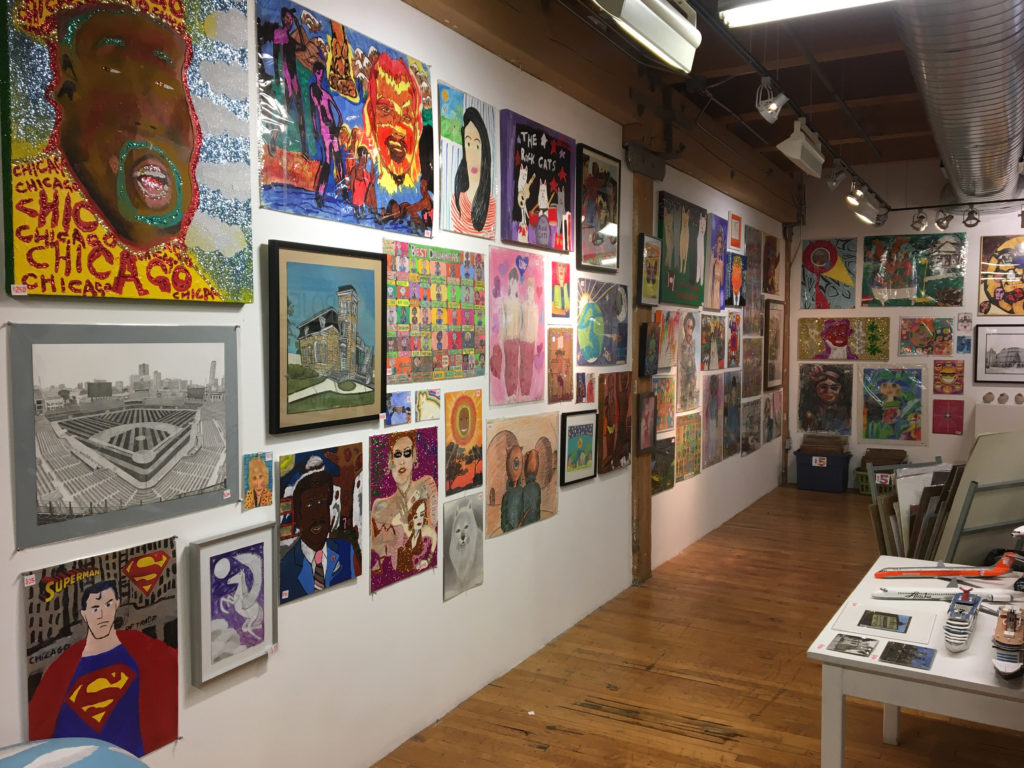 Photo credit: Project Onward
Meet Project Onward, one of our newest grantees. Senior Program Officer Jessie Mott first discovered the organization when she saw an amazing drawing of a vicious poodle by George Zuniga, one of their artists, hanging in a friend's home. Since we began our partnership less than a year ago, we've been impressed with not only the enchanting and prolific artwork coming from their studios, but also the holistic care of their artists, who they regard as family.
Project Onward launched in 2004 out of a need for artists with disabilities to have a safe, supportive space to thrive creatively, experiment with new materials, tell their stories, and exhibit and sell their work. They support the endeavors of more than 60 artists, many of whom live on low incomes and would otherwise struggle to afford studio space and supplies. There is no cost for artists to be a part of Project Onward except for a 50/50 split of sales (half to the artists directly and half back into the program). All of the artists demonstrate immense talent, and their art has received accolades and been exhibited across Chicago, the United States, and internationally.
When we first met with the team at Project Onward, they expressed a need from the artists for more individualized support. In response, we awarded a grant for a staff position whose primary responsibility would be to coordinate internal and external support services for artists. Kim Jacobs, LCPC took on the Case Manager position after having regularly volunteered with the organization. In an email to our team, however, Kim said that she doesn't consider herself just a Case Manager. "Depending on my day," she said, "I can wear many hats."
Assistance with getting a gas bill reduced; finding and touring assisted living facilities; advocating at a nursing home about declining hygiene; finding new therapists or psychiatrists; food insecurity; applying for social security; as well as counseling regarding feelings of frustration about inability to find a significant other, or that another artist is too loud, or dealing with dysfunctional family members. These are just some of the challenges that Kim has supported artists through lately, and both artists and studio staff are grateful.
"In general," Kim said, "my being here regularly has allowed our studio staff to better focus on the art. When a home, health, or mental wellbeing issue or emergency arises, studio staff no longer have to step out of their roles and become counselors, when they did not always feel comfortable assuming that role." All in all, Kim's role seems to be fostering even more synergy for the studio, which already had a strong sense of energy and community. The artists have more capacity to reach their full creative potential, and the studio staff have more capacity to foster their artistic careers.
When speaking with Nancy Gomez, Executive Director of Project Onward, it was inspiring to hear her talk about the artists. The warmth and admiration she feels for each and every one of them is tangible. She challenges people who expect the artwork to reflect the artists' disability, and mentioned that when we look at Frida Kahlo's art, we think of her as one of the greatest artists in history — not as a disabled person. Everyone has their own limitations, visible or not. Regardless, the unique languages, technical skills, and sense of vision the Project Onward artists have are incredible. Nancy, and the team at the RDLF, believe their art should be recognized for those qualities above all.
See more about Project Onward: