Joel Hall and Dr. Christopher Balthazar receiving their award from Dr. Keith Green, Executive Director of Chicago Black Gay Mens' Caucus.
The Reva and David Logan Foundation extends a warm congratulations to two of our partners: Joel Hall Dancers & Center and Taskforce. During "A Spring Fling," the Chicago Black Gay Mens' Caucus inducted our partners' leadership into the Chicago Black Gay Hall of Fame.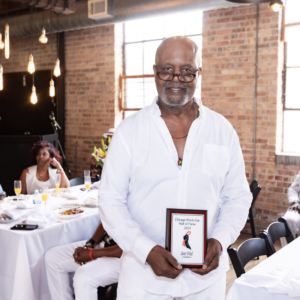 Joel Hall is the Founder and Artistic Director Emeritus of Joel Hall Dancers & Center. Since 1974, they have championed the artistry of Black and Brown LGBTQ+ performers. They actively pursue opportunities to dismantle oppressive systems, amplify oppressed voices, and cultivate a better world for all. With our support, they are currently in development of their new space THE HALL. The building is located in Albany Park and is dedicated to the creation, performance, and instruction of Chicago's dance artists.
Dr. Christopher (Chris) Balthazar is the Executive Director of TaskForce Prevention & Community Services. Since 1990, TaskForce is committed to addressing the HIV/STI-related needs of adolescents and young adults living in systemically disenfranchised communities. They provide HIV/STI prevention education, testing, treatment, and care services. They serve hundreds of LGBTQ+ youth each year on Chicago's West Side. In addition to his induction into the Chicago Black Gay Hall of Fame, Chris also received the Sidney Thomas Health Advocacy Award.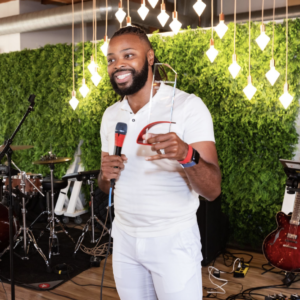 We are proud to partner with organizations and individuals who are being recognized for making positive change in their communities. Congratulations to our partners Joel and Chris!
Photo credit: Chicago Black Gay Men's Caucus