David Logan (1918-2011)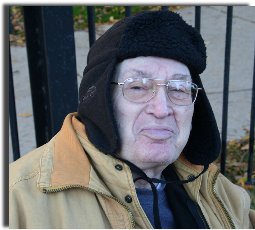 Berkeley Graduate School of Journalism
Sam Stephenson was ready to give up. While researching a book on photography, he had unearthed tens of thousands of images of famous jazz musicians, as well as almost two thousand reel-to-reel recordings. Stephenson knew his discoveries were priceless, but he had no idea how he would find the money or the time to catalogue and restore such a mammoth trove. Then one evening, the phone rang in his North Carolina home. It was a man named David Logan. He was calling from Chicago. His voice was deep, his manner direct. He told Stephenson that he had read about his work in a magazine and he wanted to know how much cash he needed to finish it.
Shortly after the phone call, a check for $65,000 arrived in North Carolina. Over the next several years, Logan contributed half a million more dollars to Stephenson's labors. With that continued support, Stephenson established The Jazz Loft Project at Duke University, mounted major exhibitions in galleries around the country, and wrote an award-winning book.
"David's call really spurred me on," Stephenson recalled. "What he did will forever be a part of my life."
The work of cataloguing and preserving the collection continues today, over a decade later. Sadly, the man who made it all possible will not get to see its completion.
David Logan, one of most important and innovative philanthropists of his generation, passed away in January. He was ninety-three years old. By the time of his death, he and his family had given away countless millions, mostly to people like Sam Stephenson, writers and artists and scholars doing invaluable work that wouldn't necessarily make a profit, but still needed to be done.
"David wanted to give to people who were making a difference," said Dr. Joel Press, the chair of a Logan endowment for rehabilitative medicine. "He wanted them to build on what they were doing and take it to the next level."
David Logan did not look or act like someone with the means to pick up the phone and offer a freelance writer tens of thousands of dollars on the spot, let alone someone who could fund an endowment. He liked to clip coupons for restaurants. He shopped around for bargains. Most days, he went about his business in a pair of old jeans and a polo shirt and it tickled him when people in his luxury apartment building mistook him for a janitor. By the end of his life, thanks to his skill as a businessman and investor, David was one of the richest men in Chicago. But he was not born into the city's gentry. And while he wasn't uncomfortable among them, he didn't go out of his way to blend in either.
"He graduated from a very good college and an excellent law school but he never forgot his roots," his friend Ben Rothblatt said. "Dave was still a neighborhood guy."
That neighborhood was not the exclusive "Gold Coast" area of the city where David lived out his later years. It was Logan Square, on northwest side, the place where he was born. Saul Bellow grew up down the street from David and the people that surrounded him in his youth were same types who populated Bellow's Adventures of Augie March: striving, struggling immigrants from Poland, Germany, Hungary, all over Central and Eastern Europe. David's parents were Lithuanian Jews. Like most of their neighbors, they had arrived in Logan Square with almost nothing. They lived by their wits and they worked very, very hard. David learned from their examples and worked himself into college across town at the University of Chicago. He stayed on for law school, graduating in 1941.
While he was at the university, he met a fellow student named Reva Frumkin. They were together until David's death sixty-nine years later. In a life marked by change and constant reinvention, David's commitment to his wife was absolute.
"My father was extremely devoted to my mother," the youngest of their three sons Jonathan recalled. "He would not leave her side under any condition."
One of the things that bonded David and Reva together so strongly was a mutual love of the arts, particularly photography and illustrated books. As they built their wealth, they also built world-class collections. David became known around the country for calling up artists and photographers and offering to buy large portions of their portfolios. He spent a lot of time hunting for buried treasures, as well.
"When I was a kid, we didn't go to Disneyland," Jonathan said. "We went to bookstores all over the place, even in small towns. I remember going up ladders into musty stacks looking for any book with a photograph in it."
David and Reva also shared a love for jazz. Later in life, they liked to sit together in their music room, a converted den jammed full of thousands of records that David had collected over the years. Most people who visited the Logans wound up in the music room. David would pull them in and put on record after record. He prided himself on being able to name the soloists on every track he played. He could identify their tendencies, their styles, the way they expressed a particular phrase or melody.
David could have seen himself in his musical idols. Like all great jazzmen, he was passionately, stubbornly, sometimes maddeningly individualistic. He could be moody, even discordant. He took a kind of puckish delight in argument and debate that was easy to interpret as contrariness, but was actually the product of a lively and ceaselessly churning mind.
"I used to call David my favorite curmudgeon," remembered Sunny Fischer, head of the Richard Driehaus Foundation and one of David's closest friends. "His passions were enormous. For jazz, for photography, for good ideas and for a good argument, too. He was not the kind of person to go along to get along. He challenged you.
David also loved to improvise like his jazz heroes. After practicing law as a young man, he switched to investing in the stock market. One of the trades that made his fortune was buying an early stake in the Berkshire-Hathaway Company. Later, he said he bought the shares purely because his financial advisors told him not to. But he had a good feeling about the stock, so he held onto it.
"He acted on instinct," Stephenson said. "It was almost a spiritual way of working. You go with what moves you rather than looking at credentials and case studies and resumes."
David's improvisational style carried over into his life's most important work, philanthropy. The combination of jazz and photography in Stephenson's Jazz Loft Project naturally drew David's attention. But his interests were incredibly varied. The Reva and David Logan Foundation donated millions of dollars to initiatives ranging from inner city arts programs to leadership awards to sports medicine.
And David was deeply involved in every cause he supported.
"He didn't just give money, he gave himself," said his friend Perry Goldberg. "He was a very creative individual and in many ways, the real creative work of his life was philanthropy."
In 2005, David went to lunch at the Claremont Hotel in Berkeley with Pulitzer-prize winning journalist Lowell Bergman. Bergman was teaching at the journalism school at UC Berkeley and was interested in starting an investigative reporting program there. Not surprisingly, David kicked off the meal with a barrage of questions about the value of Bergman's work and why he should bother to support it.
"Finally, I said to him, 'You know, I don't know why I'm wasting my time with you,'" Bergman recalled. "He liked that. He sat back and he smiled."
Soon, David and Lowell were trading Yiddish phrases. To David's amusement, Bergman called him a litvak, or know-it-all. By the end of the luncheon, David had written a check for $5000. Less than a year later, after another lunch and a series of phone calls with Bergman, fifteen shares of Berkshire-Hathaway arrived by first class mail at the Berkeley chancellor's office. The shares, worth approximately $1.5 million, were endorsed to the university with a letter directing them to endow a chair in investigative reporting. 
 "It blew their minds," Bergman remembered with a laugh.
David followed his donation to Berkeley with additional funding for the Center for Investigative Reporting, also based in Berkeley, as well nearly two million dollars for the Frontline television news magazine. When asked about his support for journalism, David called it "the guardian of the public interest.
Jonathan attributed his father's funding of the press to his lifelong commitment to learning and self-improvement.
"My dad was voracious reader," he said. "He could down a five hundred page novel or a pile of annual reports before bed. And journalism was always a passion of his. After he met Lowell and heard about the work he and his group were doing, it was a slam-dunk.
"David had an eclectic nature," Bergman added. "He had a spontaneous intelligence that could shift subject areas without missing a beat.
David took an interest in all of his charitable works, but nothing seemed to satisfy him like sharing his love for the arts. He served on the Illinois Arts Council for 29 years. His foundation co-underwrote Ken Burns' documentary Jazz funded awards for writing about photography. And in 1998, after another of David's famous cold calls, he donated what would become the Reva and David Logan Collection of Illustrated Books to the Legion of Honor in San Francisco.
"One day we got a call from this man who introduced himself as David Logan and said he was interested in donating his collection," curator Karin Breuer recalled. "He was a complete stranger to us."
The collection, which comprises more than 300 volumes by masters like Picasso, Rodin and Manet, now resides in its own gallery on the lower floor of the museum. The Logans also donated funds for an annual lecture series. On visits to their son Jonathan in the Bay Area, they would always stop in to see the their books and confer with the staff.
"Dave came on as kind of tough and grumpy sometimes," Breuer said. "But once you got him talking about artists' books or something else that he loved, his face just lit up. He had great enthusiasm and he really wanted to share it."
That enthusiasm was still burning strong the last time Sunny Fischer saw David before his death.
"He brought out a book by Picasso," she recalled. "And the way he talked about it, the colors and the techniques, he was like a teenager. I just hope when I'm in my nineties, I have that kind of vitality."
Fittingly, David's largest gift and the crowning accomplishment of his philanthropic career will give others the chance to enjoy the arts as much as he did. In 2007, he donated $35 million to his alma mater, the University of Chicago, for the construction of the Reva and David Logan Center for the Arts. The gift represented one of the largest single donations in the school's history. Designed by architects Tod Williams and Billie Tsien, the center is slated to open in the spring of 2012. It will house classrooms for the university's arts programs, as well as theaters and performance spaces open to the general public.
As usual, David was closely involved in the planning and the design of the center, right down to the kind of food that will be offered in the concessions areas.

"Without the vision and commitment that David Logan and his family brought, we would not be building the center," said the project's executive director, William Michel. "It will be an incredible tribute to his passion for the arts and for the city of Chicago in ways that we will remember for generations to come."
At the 2010 groundbreaking ceremony for the center, David's son Dan gave an eloquent speech on what the project meant to his father. 
 "My father says that as far as he is concerned, the building is only the beginning. He is interested in changing lives."
David's generosity definitely changed lives. And it will continue to do so. The center at the university will stand for decades. Galleries like the Legion of Honor will continue to share his collections. And his three sons, Dan, Richard and Jonathan will continue to administer the family's foundation. Most importantly, the people and organizations he helped over the years will carry on with the important work that he made possible.
"I'm always going to honor the Logan family for what they did for me and my work," Sam Stephenson said. "David was inspiring. He was completely fearless. And when you're fearless, you can do great things."